Raphael Montañez Ortiz
Interdisciplinary Mixed Media Artist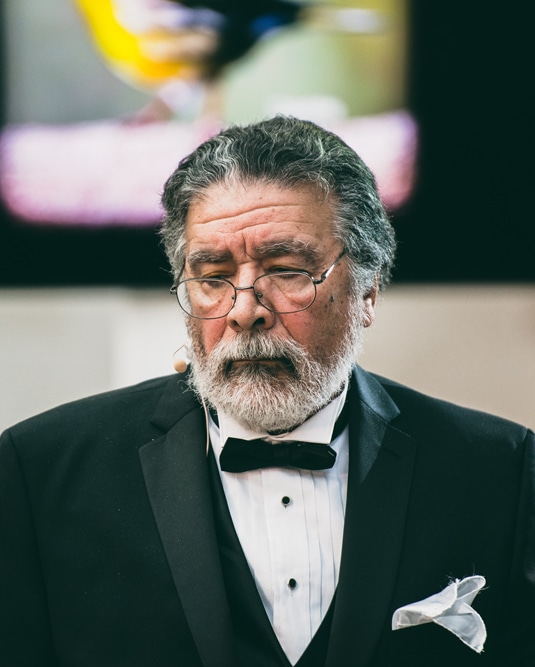 The fellowship is an affirmation of an aesthetic of art that has been called "Dada" to bring coherence to what most view as a realm of incoherence in art. The facts are that Dada is the coherence within the incoherence and is therefore interpretive like all linguistic studies. I am grateful for this prestigious and important support of my ongoing practice.
Raphael Montañez Ortiz (he/him; b. New York, 1934) is a central figure in U.S. Post-war art, whose pioneering practice began with trail-blazing experimental film works in 1957. Ortiz's ground-breaking art practice has expressed itself through performance, film, digital media, paintings, collages, ready-mades, destruction concerts, and deconstructed objects. In 1969, Ortiz founded El Museo del Barrio, the first Latino art museum in the US.
In the 1960s, he was a key figure in the international Destruction in Art movement, with performative actions that would result in powerful sculptures made from destroyed objects. His practice expands art historical references, from U.S. Abstract Expressionism and Dada to identity and his upbringing in a Puerto Rican family in New York. At the same time, his work was informed by an ongoing interest in psychoanalysis and anthropology, which resulted in his exploration of shamanic practices and the therapeutic and healing potential of art, parallel to his research into pre-Hispanic cultures. This is a constant concern that runs from the early destruction pieces such as Cowboy and "Indian" Film (1957) and his Archaeological Finds series (1961-64) to his later performative actions and works addressing the Indigenous cultures of the Americas. Ortiz taught at Rutgers University from 1971 to 2022. His recent artwork includes an extensive Potlatch series (2018-20) and a new project exploring "beingness" as a given or as a narrative told without intention.
Selected Works