Magda Fernandez and Dell Marie Hamilton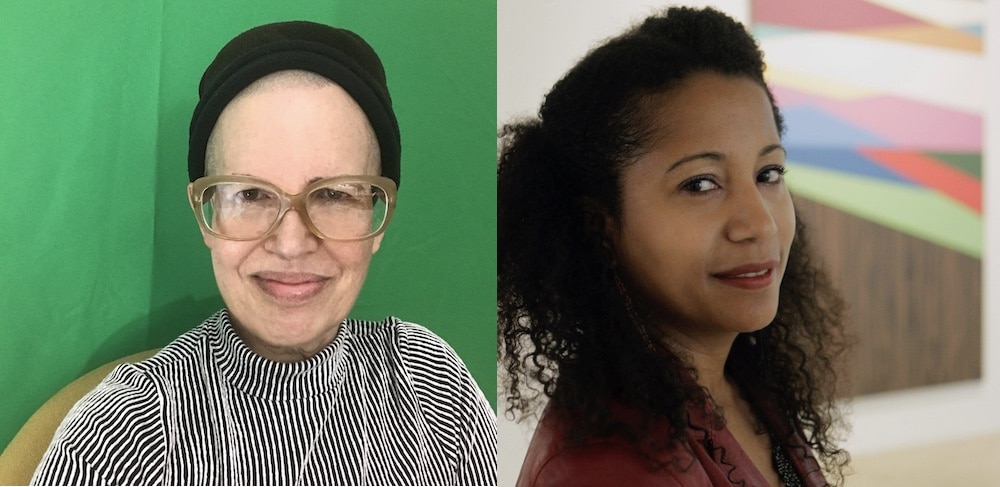 CHARLA: Bending the Archive
"Bending the Archive" is a pre-recorded performative video of a zoom charla between close friends, artists Magda Fernandez and Dell M. Hamilton, on how archives inform their respective practices and Latinx identities. For several years, Fernandez and Hamilton have participated in an artist group text, and have bared much about the repercussions that have resulted from sharing a history of European colonialism in their respective Cuban (Fernandez) and Belizean/Honduran (Hamilton) family histories. In Fernandez's case, most of her ancestors were the colonizers, and in Hamilton's, the colonized. In "Bending the Archive," Fernandez and Hamilton will reprise some of the issues that they have shared on what it means to be Latinx, and how that filters into their art.
Bios
Magda Fernandez is a Cuban-born, Boston-based artist who has been creating silent experimental videos about her fraught Cuban roots for over a decade. Blurring theater, cinema, and performance, Fernandez enacts conflicts ranging from her family's response to the Cuban Revolution, to her ancestor's participation in Cuba's colonization and slave economy. Fernandez's videos received the Los Angeles Experimental Forum's Best Experimental Short Award, Venezuela's 5 Continents International Film Festival's Best Video Art Award, the International New York Film Festival's Silver Experimental Award, among others. Her videos also have been screened online by Microscope Gallery, Brooklyn, and exhibited in "Nine Moments for Now" at the Ethelbert Cooper Gallery of African and African American Art at Harvard University; "STANDUP!: Women You Should Know" at Kayafas Gallery, Boston; and "latinoamericañaza" at Samsøn, Boston. In 2010, Fernandez was invited to present her videos-in-progress at Ute Meta Bauer and Joan Jonas' Art, Culture, and Technology Lectures Series at MIT,"The Theatrical/The Performative/The Transformative."
Dell Marie Hamilton is an interdisciplinary artist, writer and independent curator who has performed in the New England area at Boston University, the Museum of Fine Arts/Boston, the ICA/Boston, and at Dartmouth College's Hood Museum of Art. She also works at Harvard's Hutchins Center for African and African American Research on a variety of conferences, exhibitions and archival projects. In 2019, Dell presented her first solo show "All Languages Welcomed HERE," at Salem State University, which was reviewed by NKA: Journal of Contemporary African Art. She also became the first visual artist to present a performance artwork at the Clark Art Institute in Williamstown and last summer she participated in the 13th Havana Biennial as part of Magda Campos-Pons's curatorial project "Intermittent Rivers," which was ranked by Hyperallergic.com as one of 2019's top international exhibitions. Her work has been recently acquired by the MIT List Visual Arts Center and her most recent curatorial project "Nine Moments for Now" was ranked by Hyperallergic.com as one of 2018's top 20 exhibitions in the U.S.