Artist Mentorship Program
Juan-Carlos Perez and Josh Friedman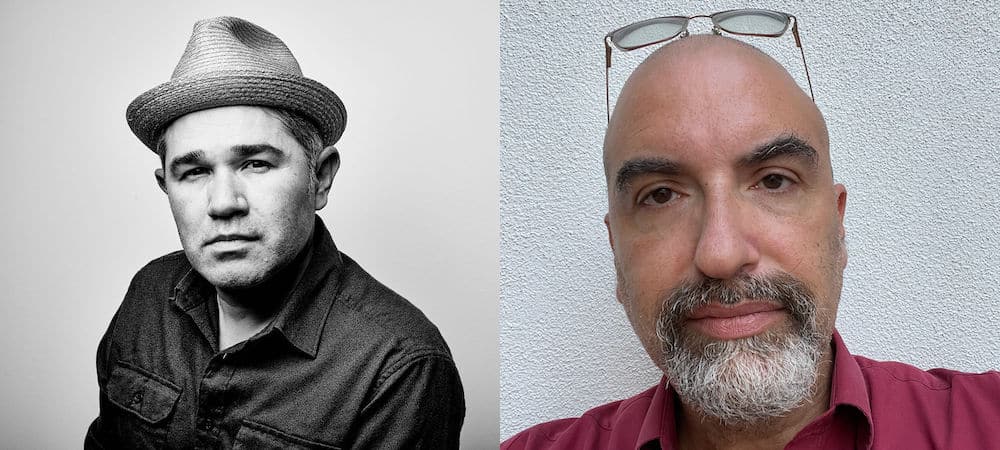 Project Details
Throughout the course of their skill exchange, Juan-Carlos Perez and Josh Friedman engaged in an ongoing dialogue that examined their respective art processes, their practices, enhancing the visibility of their work, and exploring new methods of sustaining their practice without fully relying on teaching, galleries or commissions.
To commemorate and document their skill exchange, Perez and Friedman created a video recording that characterized their candid, unfiltered conversations.
Bios
Juan-Carlos Perez was born in Juarez, Chihuahua Mexico and raised in Pasadena California. After receiving his degree from the School of the Art Institute of Chicago (SAIC), he continued his studio arts practice as an Interdisciplinary Artist, Visual Arts Educator & Muralist. His community work has brought him into numerous neighborhoods throughout Chicago, Los Angeles, Detroit, Kansas City and West Africa. Juan-Carlos' work investigates how perspectives today continue to be shaped by an old, past colonial rule: A European blueprint of laws that have created and normalized an American culture or narrative built to dominate and create systems of power that have led to today's social & class divides.—the same social/racial issues that incoming immigrants and new generations of Mexicanos and Latinos still face today.
To learn more:
https://chicagoactcollective.weebly.com
https://3arts.org/artist/Juan-carlos-perez/
https://www.linkedin.com/in/juan-carlos-perez-52589784/
Instagram: @juancarlosperez927 
https://kelpjournal.com/post/interview-with-juan-carlos-perez
Josh Friedman has exhibited his works on paper and sculpture in galleries and museums in China, Italy, Japan, Korea, the United States and Thailand. His work has been included in exhibitions in the Cranbrook Museum of Art, Bloomfield Hills, Michigan; the Shanghai Hongqiao Museum of Modern Art, Shanghai, China; Meguro Museum of Art, Tokyo, Japan; the Ministry of Culture Galleries, Bangkok Thailand; the Andaman Museum of Art, Krabi, Thailand; the Palazzo della Cultura, Vallo della Lucania, Italy; and Art Hotel Gran Paradiso, Sorrento, Italy. His work is held in public, institutional, municipal and private collections in Asia, Europe and North America.
To learn more:
Instagram: @joshfriedmanart