Artist Mentorship Program
Elsa Muñoz and Juan Molina Hernández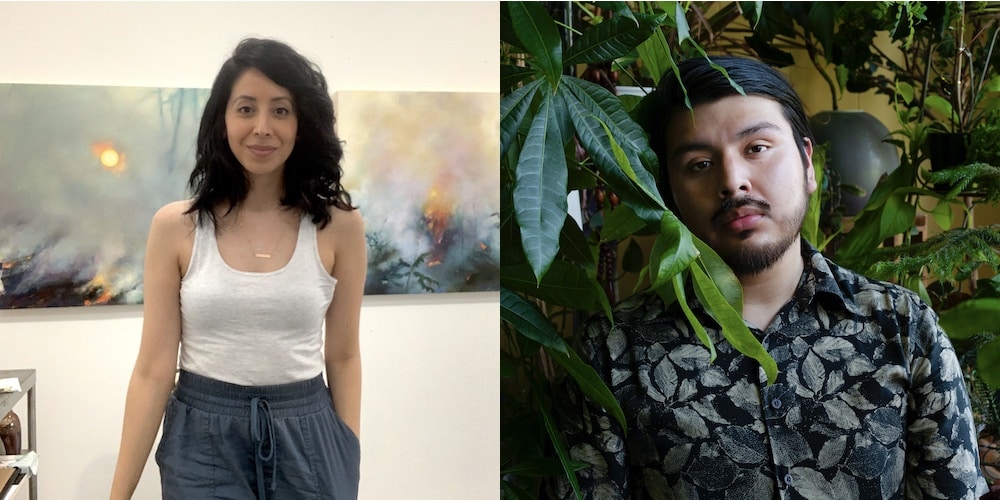 Project Details
Throughout their skill exchange, Elsa Munõz and Juan Molina Hernandez supported each other to strengthen their respective practices and to begin the creation of a new body of work. Elsa provided Juan guidance regarding being a full time artist, how to find and work with commercial galleries, and other practical matters involved with running a studio practice on one's own. Juan will shared their research skills to help Elsa find information regarding local plants found in their urban chicago ecology. This research supported the beginning of a new body of work that Elsa developed during a residency in Madrid during Winter 2023. Due to the geographic distance and time difference, Juan and Elsa used videos and slideshows to present information to each other, including two videos documenting the information they exchanged.
Bios
Elsa Muñoz is a Mexican-American artist born and raised on the South Side of Chicago (1983). Muñoz credits her interest in both nature and healing to her experience growing up in an underserved and often unsafe community with little access to green spaces. Having to spend most of her childhood indoors led to the cultivation of a rich inner world in which she was able to find beauty and sanctuary. Her work explores the threads connecting ecology, culture and spirituality.
Elsa received her BFA in oil painting from the American Academy of Art in 2006. She's since had 8 solo shows including one at the National Museum of Mexican Art (2011) and at the Union League Club of Chicago (2016) along with several group shows throughout the United States. She was recently awarded a SPARK Grant from the Chicago Artists Coalition (2022) and was the recipient of the Helen and Tim Meier Foundation For The Arts Achievement Award (2019). Notable collections include the National Museum of Mexican Art (Chicago), North Park University (Chicago), and the private collection of Martin Castro, Chairman of the U.S. Commission on Civil Rights under President Barack Obama.
Juan Molina Hernández (b.Guanajuato, México) is a Chicago-based visual artist. Molina Hernández's art practice includes photography, textiles, and installations that explore narratives of belonging, home, lineage, and memory. By appropriating symbols from the environment, culture, and personal memory they construct stories in relation to place, family, and a culture that never speaks just one language.
Molina Hernández graduated from Northern Illinois University with a Bachelors of Fine Arts in photography. In the past, they have exhibited at ACRE Projects, ENGAGE Projects, Charlotte Street Foundation, Chicago Artist Coalition, Roman Susan, and Tiger Strikes Asteroid Chicago.